In this post, you will find an interview with R Rodriguez and a giveaway for her debut novel.
Q: In your book, death (or the grim reaper) is represented by a panther. What made you choose this animal over others?
A: The answer to that might be a bit scary. Actually, when I was a teenager, I once fainted and had a seizure. None of which was explained by the medical studies that were done on me subsequently. I actually thought I saw a panther circling me when I stared off into nothingness, helpless, before my mom found me. I like to believe it was my brain playing tricks on me.
Q: This book covers two heavy topics: depression and abusive relationships. Do you have advice for women who may be in either of these situations?
A: Absolutely. Get help for depression. I don't believe that's something you can get out of on your own easily. You must be an active participant in the process, though. You must believe that you want to get better. For those in abusive relationships, get out and get help. Love yourself first and then you can be in a healthy relationship. If you're very young, don't second guess yourself. If it doesn't feel right, it isn't right. Real love doesn't feel like torture. Tell someone you trust. Face what you're dealing with, don't rationalize bad behavior. When someone shows you how they are by their actions, that's really how they are. People don't change unless they really want to and you can tell by their actions.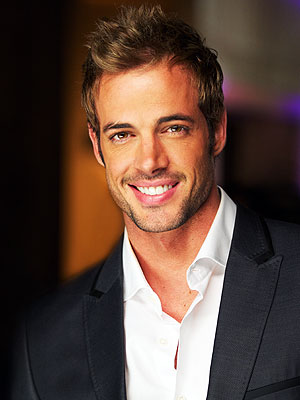 Q: It seems to me that Lucian and Dario are complete opposites. If you had to pick an actor or a well-known star to represent each guy, who would you pick?
A: This is an easy question because I always have a muse for every male character, although they're a bit older now. For this book, Lucian was always William Levy in my mind [pictured to the left]. I knew him from Latino Telenovelas before he went on Dancing with the Stars. Dario was always Jonathan Rhys Meyers from The Tudors [pictured to the right]. I am a big fan of that show and he was such a good tyrant, that's who I envisioned as Dario.
Q: Which character do you most relate to?
A: As a woman, I can obviously relate to Grace. It was important to me to create a character other young women in trouble could identify with. I believe every writer brings something of their life experience into their books and characters. A lot of people have asked me if there's any relation between me and the protagonist. Although, I did feel an affinity with certain characters' feelings through their relative situations, I have to say that each character was very thought out in relation to the central themes in the book. They were not necessarily a reflection of me directly.
Q: When Grace was playing Vivaldi, which song was she playing?
A: The song was from Vivaldi's The Four Seasons 3rd Movement "Summer" Presto. That was also her audition song. I believe it enraptures Grace's tumultuous life.
Q: What is your favorite book and why?
A: This is a hard question to answer because I love so many books. I don't believe I have one ultimate favorite book. I've loved many books throughout my life like: Ramona the Pest by Beverly Cleary, The Outsiders by S.E. Hinton and, The Catcher in the Rye by J.D. Salinger. My first introduction into the paranormal was The House of Spirits by Isabel Allende. I read that book in one night. As an adult, I'm obviously a fan of the Twilight Books and recently Fifty Shades of Grey, but the one book that has touched my life completely is The Alchemist by Paulo Coelho because it talks to a person's soul. It encourages you to follow your dreams and live your ideal life through a beautiful story about a shepherd. All of Paulo Coelho's books speak to our existential dilemmas.
Q: If you could only use five words to describe the characters Grace encounters throughout the novel, which words would you use?
A: Lucian: The perfect man
Dario: An abusive man child
Stan: A cool temporary college boyfriend
Laura: An unconditional friend
Jane: Stuck up and lacking personality
The Granadases: Old treasures to cherish
Thomas Coventry [Grace's father]: A loving father
Grace's Mom: A distant controlling mother
Q: Who has been your biggest inspiration?
A: I haven't been inspired by one person in particular. I am very curious by nature so life, itself, inspires me. I find places full of life, like big cities, inspiring. I find inspiration in nature. Also the selflessness of any person who helps others and promotes love and peace, inspires me. Every time I see it, I wish to one day be able to be like that.
Q: Favorite Quote?
A: "Always aim at complete harmony of thought and word and deed. Always aim at purifying your thoughts and all will be well." Mahatma Gandhi
Q: What is one book that everyone should read?
A: The one everyone else is reading. There must be something there! In all seriousness, The Alchemist by Paulo Coelho
E-book Giveaway
Congratulations goes to Beth!!!
Ms Rodriguez is giving away an e-book of
Grace
to one of my lucky readers.
Click here to learn more and read my review
. Now onto the details:
This giveaway is open internationally.
Giveaway ends on Saturday, June 2.
You can enter via the Rafflecopter form below. You can enter by doing one of the following:

Free entry. Just click enter to enter.
Like R Rodriguez' Facebook page. Click like and then enter.