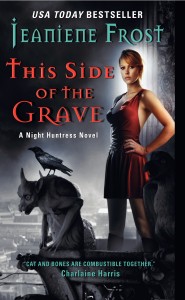 Genre: Paranormal Romance
Night Huntress Series, Book 5
Note: If you haven't read this series from start to book 4, then the description has minor plot spoilers from earlier books.
Description (taken from Jeaniene Frost's website):
Half-vampire Cat Crawfield and her vampire husband Bones have fought for their lives, as well as for their relationship. But just when they've triumphed over the latest battle, Cat's new and unexpected abilities threaten to upset a long-standing balance…
With the mysterious disappearance of vampires, rumors abound that a species war is brewing. A zealot is inciting tensions between the vampires and ghouls, and if these two powerful groups clash, innocent mortals could become collateral damage. Now Cat and Bones are forced to seek help from a dangerous "ally"—the ghoul queen of New Orleans herself. But the price of her assistance may prove more treacherous than even the threat of a supernatural war. …to say nothing of the repercussions Cat never imagined.
Let me warn you, I love vampire books. So it is no surprise that I love this series. Bones and Cat are hilarious together. And the books are action-packed with vampires, ghouls, and such. If you like Charlaine Harris, Patricia Briggs, Kelley Armstrong, and/or Richelle Mead, then you'll probably like the Night Huntress Series.
There was one scene in the book where I giggled non-stop. I think Jared thought I was going nuts. Nope, I just got into the book's scene (that's all)...