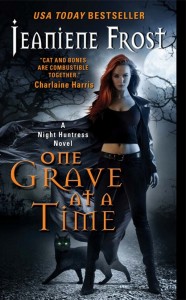 Genre: Paranormal Romance
Night Huntress Series, Book 6
Note: If you haven't read this series from start to book 5, then the description has minor plot spoilers from earlier books.
Description (taken from Jeaniene Frost's website):
Having narrowly averted an (under)world war, Cat Crawfield wants nothing more than a little downtime with her vampire husband, Bones. Unfortunately, her gift from New Orleans' voodoo queen just keeps on giving–leading to a personal favor that sends them into battle once again, this time against a villainous spirit.


Centuries ago, Heinrich Kramer was a witch hunter. Now, every All Hallows Eve, he takes physical form to torture innocent women before burning them alive. This year, however, a determined Cat and Bones must risk all to send him back to the other side of eternity–forever. But one wrong step and they'll be digging their own graves.




I'll admit, the beginning was abnormally slow, and I was wondering if this is the book where the series goes from super exciting to meh. But fortunately not, the last hundred pages redeemed itself. I love vampire series. I love the Night Huntress Series. So no surprise that I loved this one.